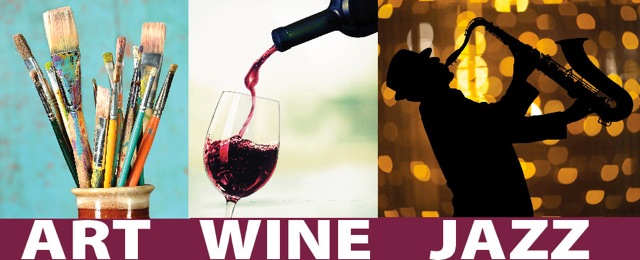 Dahlonega Arts & Wine Festival

High Quality Arts & Crafts, Live Jazz Performances
Wine Garden with Local & Regional Wines
Downtown Dahlonega, Georgia

Third weekend of May

May 18 & 19, 2019
Saturday 10 am to 6 pm

Sunday 10 am to 5 pm
If you are an Artist & would like to apply to be in the show, click link below
The Dahlonega Arts & Wine Festival, May 18 & 19, 2019, is the perfect event for lovers of art, wine and jazz. Chestatee Artists will present this exciting event for the 4th year in the historic downtown square and in Hancock Park, featuring quality arts and crafts, fine local and regional wines, and terrific jazz performances.
Sixty or more carefully selected artists and crafters will provide creative products for purchase during the two-day event. Come and see a variety of handmade items and artwork around the downtown square from 10 am to 6 pm on Saturday and on Sunday from 10 am to 5 pm.
Wine enthusiasts can wander over to the Wine Garden and purchase tickets for tasting a variety of wines and receive a festival glass for $30. Wine by the glass is available for $8 and you can also purchase your favorite wine "by the bottle." Wine tasting on Saturday begins at 11 am and on Sunday at 12:30 pm. Several wineries participating are Montaluce Winery, Habersham Vineyard & Winery, Kaya Winery, Etowah Meadery, and more.
On the Hancock Park Pavilion, amazing jazz performers will entertain festival goers sitting in the Wine Garden or near the stage in their own lawn chairs. Musical groups will feature great jazz, blues, salsa and many other genres to keep your feet tapping. Performers from the region and Atlanta will rock the festival with groups like Little Big Band Atlanta, led by the multi-talents of Rick Harris. Brookwood Split has always been a big hit at our festivals along with many exceptional singers and musicians. These free performances begin at noon and continue during festival hours.
Visit our Dahlonega Arts & Wine Festival Facebook page to see more event details. We will post information on the wineries in our Wine Garden, on jazz performers, and on local business sponsors. In late March, you can also see works by our selected artists and crafters.
There is plenty to see and do in our area, so stay for the weekend in one of Dahlonega's unique accommodations. Check them out at www.dahlonega.org.
After a day of festival activities you can relax and taste the culinary arts of one of Dahlonega's many fine restaurants in the heart of the North Georgia Mountains.
Parking: Free parking is available in The University of North Georgia Parking Deck with easy access to the downtown square. A variety of parking lots are also available from streets off the square.
See www.dahlonegadda.org/parking
If you are an Artist & would like to apply to be in the show, click link below