Dahlonega Arts & Wine Festival
See us on Facebook


https://www.facebook.com/Dahlonega-Arts-Wine-Festival-1727270337510169/?epa=SEARCH_BOX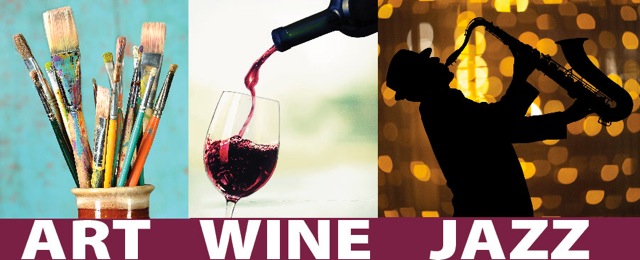 Dahlonega Arts & Wine Festival
High Quality Arts & Crafts, Live Jazz Performances
Wine Garden with Local & Regional Wines
Downtown Dahlonega, Georgia

Third weekend of May
May 21 & 22, 2022
Saturday 10 am to 6 pm
Sunday 10 am to 5 pm
**ARTISTS APPLICATION**
Save the Dates May 21 & 22, 2022 for our 7th festival.

Deadline for applying to this juried event is March 8, 2022.
(Click Here to Apply)
The Dahlonega Arts & Wine Festival, May 21 & 22, 2022 is the perfect event for lovers of art, wine, and jazz. Chestatee Artists will present this exciting event for the 7th year in the historic downtown square and adjacent Hancock Park. The focus is on featuring high quality arts and crafts, fine local and regional wines, and terrific jazz performances to entertain our visitors for this truly cultural event.
Seventy or more carefully selected artists and crafters will display creative products for purchase during the two-day event in downtown Dahlonega. Hours for the festival are 10 am to 6 pm on Saturday and Sunday from 10 am to 5 pm. Visitors will be able to select from paintings in oil, acrylics, watercolors and mixed media, as well as creative photography. Quality crafts accepted by the jury committee will include ceramics, sculpture, jewelry, wood items, leather crafts, fused and stained glass, fiber arts, custom knives, and other handcrafted creations. Gourmet specialty foods will also
be featured.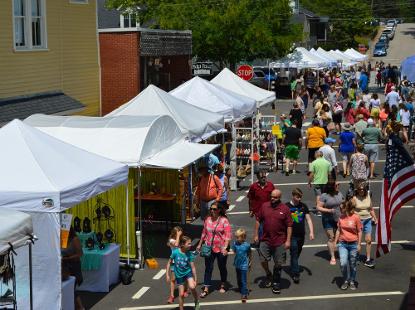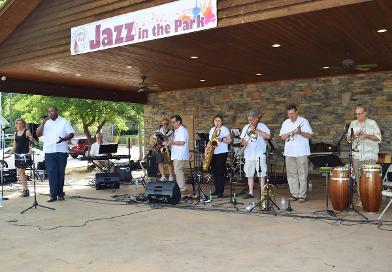 On the Hancock Park Pavilion Stage, amazing jazz performers will entertain festival goers who are in the wine venue or in Hancock Park in their own lawn chairs. Musical groups will feature great jazz, blues, salsa and many other genres to keep your "fingers snapping." Performers from the region and Atlanta will rock the festival with groups like Brookwood Split. They have been a big hit at our festivals, along with many exceptional singers and musicians. These free performances begin at 1 pm and continue during

festival hours.
Visit the Dahlonega Arts & Wine Festival Facebook page and come back often to see postings of our sponsors, wineries participating in the Wine Garden, and the musical groups who will be performing. In March, we will begin featuring works by accepted artists and crafters. Please "Like" and" Share" our Facebook page!
With so much to see and do, visitors will want to consider staying for the weekend in one of Dahlonega's many lovely lodging options. See www.dahlonega.org for accommodations.
Free parking is available in the University of North Georgia's Parking Deck with easy access to the downtown. A variety of parking lots are also available from streets near the square. See www.dahlonegadda.org/parking.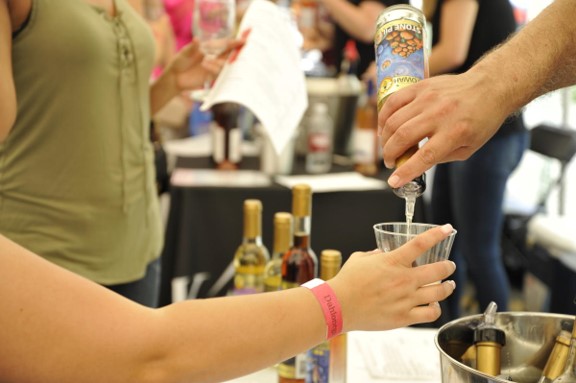 Inside the Wine Garden, wine lovers will enjoy a wide variety of wine from local and regional wineries. The Wine Garden is located next to Hancock Park so folks can enjoy their wine in the park and get closer to the music. Participating wineries in the past have included Kaya Vineyard & Winery, Etowah Meadery, Habersham Winery & Vineyards, Three Sisters Vineyards & Winery, and Montaluce Winery. Wine tasters will receive a commemorative festival wine glass with their tickets for tastings. Wine can also be ordered by the glass or by the bottle based on winery prices. The Wine Garden opens at 11 am on Saturday and on Sunday at 12:30 pm.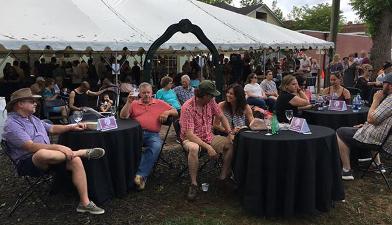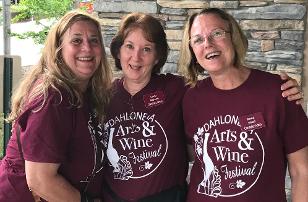 Dahlonega's Holly Theater will present GODSPELL the same weekend as our Festival. There will be three performances, May 14 and 15 at 8 pm and on Sunday at 2 pm. Tickets can be purchased on their website. They describe the production as "A small group of people help Jesus Christ tell different parables by using a wide variety of games, storytelling techniques and hefty doses of comic timing. An eclectic blend of songs, ranging in style from pop to vaudeville, is employed as the story of Jesus' life dances across the stage. Dissolving hauntingly into the Last Supper, Crucifixion, and Resurrection. Jesus' messages of kindness, tolerance and love come vibrantly to life."